Environmental, Social and Governance Strategy
QuantumScape was founded with a clear mission: develop a better battery to help accelerate the transition to sustainable transportation. In 2022, we made important progress toward this goal. For the first time, we shipped 24-layer A0 prototype battery cells in an innovative new format for testing by prospective automotive OEM customers. Our work in 2023 focuses on advancing our prototypes toward a commercial product that aims to enable electric vehicles to drive farther and charge faster.
As we move from prototype to product, we have been careful to design our scale-up strategy to match our sustainability mission. For example, our new fast separator production process uses fully electrified heat treatment equipment which does not require thermal energy generated by natural gas or other fossil fuels. This is just one example of our future-oriented production design.
Our sustainability-driven mission does not end with our core technology development. We believe that a circular economy is the future of the battery supply chain. That's why we entered into a battery component recycling agreement. By diverting select manufacturing scrap and waste, we limit the environmental impact from our core operations and realize savings by allowing critical battery minerals to return to the supply chain.
We are focused on the sustainability not only of our own operations but also those of our suppliers. We have put in place a Supplier Code of Conduct that lays out clear standards for labor practices, health and safety, environmental impact and responsible sourcing of materials, with mechanisms for ensuring transparency and enforcement. As we scale our operations from prototype to product, we believe these standards will help us scale up a responsible and sustainable supply chain as well.
We are pleased to share this update on our progress, and will continue working toward our environmental, social and governance goals as we build better batteries to electrify transportation and support a more sustainable future
Jagdeep Singh, CEO
Environmental, Social and Governance Strategy
As a development-stage company, we are still in the process of developing and implementing our environmental, social and governance (ESG) programs. We recognize that our priority issues and our ESG strategy will be shaped by our evolving operations, business strategy, and stakeholder needs as we transition from technology demonstrations to a commercial product. We are committed to continually assessing and improving our management of ESG risks and opportunities and being transparent about our progress by reporting publicly on a regular basis
We have aligned our ESG framework with the United Nations Sustainable Development Goals (U.N. SDGs). The 17 SDGs are bringing together governments, companies, nonprofits and academia to create solutions to global sustainable development challenges by 2030. We recognize the important role we can play in helping to meet the SDGs and have aligned our efforts with seven goals where we are positioned to have the most significant contribution.


Environmental Stewardship
Environmental sustainability is the reason we do what we do. EVs play an important role in the transition away from fossil fuels, and we were founded with the goal of driving EV adoption by creating a better battery that helps make the transition from combustion engines to EVs easier for drivers. When designing our products and processes, managing natural resources responsibly and sustainably, and minimizing environmental impact are always front of mind — anything less would defeat our purpose. We seek to maximize our positive environmental contributions, not only in the use phase of our products, but across the product lifecycle, also meeting the demands of our environmentally conscious partners and customers.

Product Impact
We are at the beginning of a forecasted once-in-a-century shift in automotive powertrains, from internal combustion engines to EVs. While conventional lithium-ion battery technology has been sufficient to drive limited adoption of EVs, there are fundamental constraints of this technology that we believe must be overcome to fully supplant combustion engines used for transportation.
Our solid-state lithium-metal battery technology is designed to overcome the limitations of conventional batteries through our key innovation — a proprietary solid-state ceramic separator. This separator is designed to not only allow us to eliminate the graphite/silicon host material from the anode, but also to manufacture our cell entirely anode-free. Relative to conventional lithium-ion batteries, we believe our batteries, once in the market, have the potential to deliver better energy density, faster charge time and improved safety.
Sustainable Design and Lifecycle Management
While lithium-metal batteries can play a crucial role in the fight against climate change, we are conscious of the potential negative environmental impacts in the battery lifecycle. Although we are still developing our products before bringing them to market, sustainable product design is a priority and has been contemplated in the design of our battery. We believe we can further strengthen the environmental value of our technology by designing our batteries to do more with less material, have a longer useful life, and retain utility for potential second-life applications. 
QuantumScape's anode-free architecture is designed to eliminate the need for host materials such as the graphite and silicon as well the liquid electrolyte found in the anodes of conventional lithium-ion battery cells. This reduces the need to extract natural resources and removes the energy use, air emissions, water consumption, and waste associated with manufacturing conventional lithium-ion graphitic anodes. According to the European Federation for Transport and Environment (EFTE), graphitic anode production represents 20% to 30% of the global warming potential of conventional lithium-ion battery manufacturing. One ton of graphite production releases approximately five tons of carbon emissions. The World Bank similarly projects graphite production to be the largest contributor to greenhouse gas emissions resulting from lithium-ion battery minerals production. Eliminating graphite from the anode would represent a major step toward more sustainable batteries.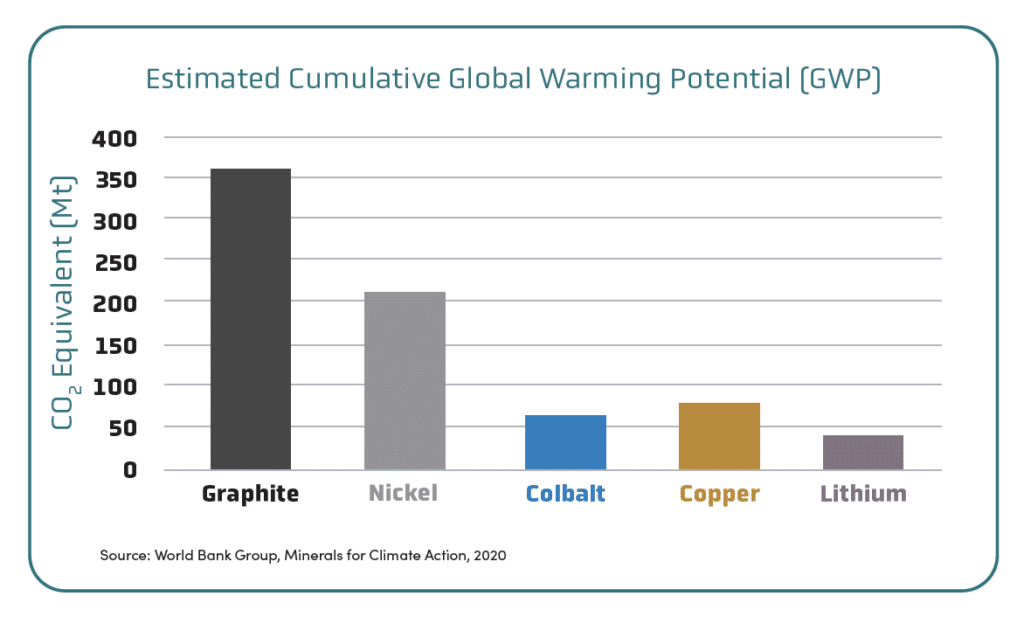 We believe the graphite anode and polymer separator we eliminate from our design are some of the least recyclable parts of a conventional lithium-ion battery cell. In contrast, when our battery reaches its end of life, we believe many of the material constituents will be recyclable and can be returned to useful applications, helping to build a circular resource economy.
According to EFTE, solid-state batteries produced using sustainably sourced raw materials have the potential to reduce the CO₂ emissions from battery manufacturing by nearly 40%. Our lithium-metal battery technology is manufactured anode-free in its discharged state and does not require the manufacturing of lithium-metal foil as an anode material, which may account for as much as a third of the global warming potential of competing solid-state approaches.

Our employees, customers and suppliers are essential to our mission and business goals, and we take responsibility for their interests. Our social strategy prioritizes growing a diverse, talented and engaged workforce, ensuring the health, safety and welfare of employees, customers and supply chain workers, and protecting our business, employees, customers and vendors from data security and cybersecurity threats.
We have aligned with three SDGs where QuantumScape's social initiatives and practices have the greatest contribution. Our mission is strengthened by the impact we have on our stakeholders. Creating a safer EV battery is core to our product design and the value we offer our customers. To further support our corporate goals, we intend to continue to be a safe, responsible and diverse organization. We make continual progress toward reaching SDG 3: Good Health and Well-Being, SDG 8: Decent Work and Economic Growth, and SDG 10: Reduced Inequalities.

Diversity, Equity and Inclusion  
We continue to focus on proactively eliminating unconscious bias in our hiring and promotion processes and setting the foundation for year-over-year improvements in diverse representation. Some of our actions to achieve this included: 
Delivering in-person unconscious bias training for our senior leaders 

Implementing a job leveling framework to ensure candidates are assessed against a consistent set of criteria

Making certain that our commitment to equal hiring and promotion opportunities is substantiated with equal pay for equal work by conducting an annual internal pay equity analysis to identify and correct any weaknesses
Occupational Health & Safety  
The health and safety of our employees is mission critical. We maintain a supportive organization and work culture that encourages personal health and work-life balance for our employees and contractors. Our Environmental, Health and Safety (EHS) department leads the programs that address workplace health and safety concerns through engineering controls, policies, procedures, training, monitoring and audits.
We heavily emphasize a proactive safety culture aligned with the following principles:
Safety is our priority and one of our enduring values

Safety is a personal commitment for which employees are empowered to take ownership for identifying and correcting issues pertinent to their job functions

A mindset that all incidents are preventable

Issues are viewed as opportunities instead of problems, and we share learnings with others

We share a commitment to coaching each other and being coached

We feel responsible for our own safety and that of our co-workers, and are willing to go beyond the call of duty on behalf of the safety of others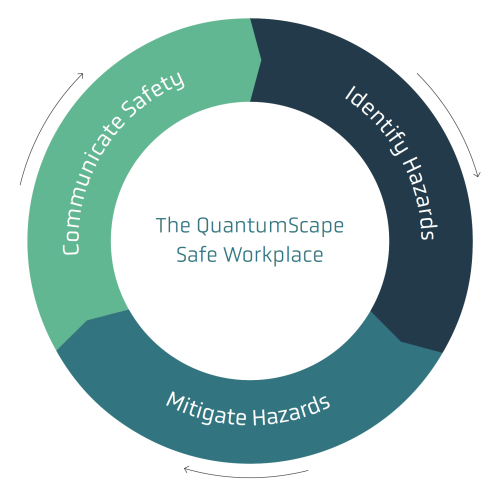 Data Protection and Security 
QuantumScape's information security program is geared toward helping us defend our information assets, including our intellectual property and the personally identifiable information of our employees. Our information security program strategy focuses on protecting information assets from the cultural, managerial and technical root causes of data breaches. 
To execute on our mission and business strategy, we believe it is imperative to institute a robust governance structure that supports our internal controls, policies and procedures. This approach requires strong leadership from our board of directors and management team. By setting the tone at the top, we build a workplace culture grounded in ethics, integrity and accountability
The board of directors' oversight of our corporate strategy includes aligning our ESG strategy to support corporate goals and consideration for how environmental and social issues impact the long-term interests of our stockholders. The nominating and corporate governance committee provides direct oversight of ESG and other governance-related matters. ESG responsibility at QuantumScape runs from the most senior levels to every individual team member and is embedded in how we conduct ourselves, develop our products and run our day-to-day operations to serve the best interest of the business and our stakeholders.
Our board of directors believes that the board should be a diverse body with members that have a mix of viewpoints, experiences and attributes such as professional background, skills, race, ethnicity, gender, education, age, and geography, as well as other individual qualities and attributes that contribute to the total mix of viewpoints and experience represented on our board. Members of our board of directors possess expertise in relevant areas that include battery and energy technology, the automotive industry, manufacturing operations and scale up, finance, risk management and human resources.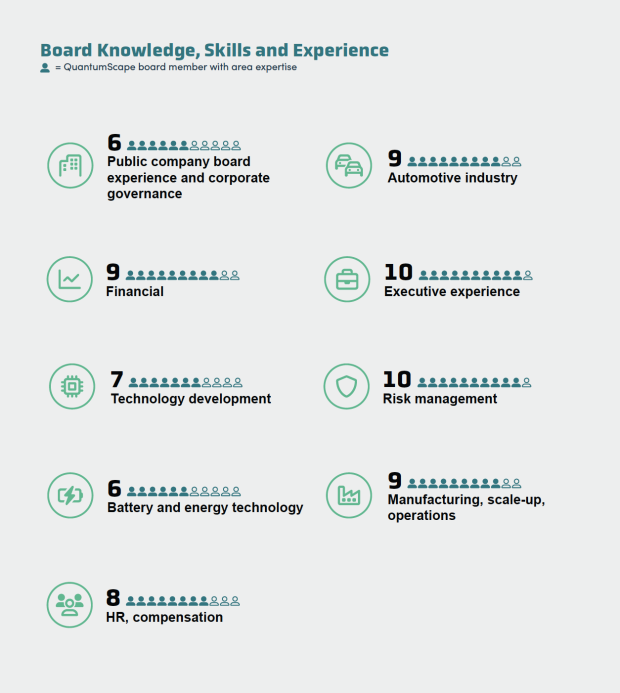 Supply Chain Management 
Like other EV battery manufacturers, QuantumScape uses mined precursor materials, which require careful consideration as we, and the wider battery industry, scale up to meet increasing demand. Our product development focuses on using earth-abundant materials that will allow us to move into high-volume production. Our battery is being designed to use many of the materials and processes that are standard across today's battery manufacturers, so we expect to benefit as the lithium-ion industry solves its supply challenges. While our separator material is unique in the industry, it is made from readily available inputs used in many other industries.
Like other EV battery manufacturers, QuantumScape uses mined precursor materials, which require careful consideration as we, and the wider battery industry, scale up to meet increasing demand. Our product development focuses on using earth-abundant materials that will allow us to move into high-volume production. Our battery is being designed to use many of the materials and processes that are standard across today's battery manufacturers, so we expect to benefit as the lithium-ion industry solves its supply challenges. While our separator material is unique in the industry, it is made from readily available inputs used in many other industries.
As we look to the future, our supply chain strategy prioritizes:
Scaling the procurement of necessary input materials and effectively scrutinize these materials and our partners' practices in accordance with our new Supplier Code of Conduct

Identifying industry-leading partners to simplify product development and reduce reliance on in-house solutions