Environmental, Social and Governance Strategy
Since our founding, QuantumScape's mission has been to make a tangible positive impact on the environment of the planet we all share by helping to meaningfully reduce emissions from the transportation sector. These emissions account for 37% of global greenhouse gas emissions, according to latest figures from the International Energy Agency. The World Health Organization estimates that motor vehicle emissions are also a major source of dangerous air pollution that results in millions of deaths annually. We believe one of the biggest opportunities to reduce these emissions is to electrify the transportation powertrain, enabling cars and other vehicles to run on energy from the grid, which can be much cleaner than the internal combustion engine. As the grid becomes cleaner with the increased penetration of renewable energy sources, such as solar and wind, electrified powertrains automatically become cleaner as well. 
To help accelerate this transition and enable a future powered by clean electricity, we believe a step change is needed in battery technology. We have spent the last decade developing a proprietary solid-state battery platform to meet this challenge. We believe that our technology enables a new category of battery with the potential to meet the requirements for broader market adoption, including greater energy density, faster charging, and improved safety. In addition, because our approach is anode-free as manufactured, we believe it can help reduce materials consumption, waste and emissions associated with anode materials sourcing and electrode manufacturing. 
Thus, the "E" in ESG has been and continues to be central to who we are at QuantumScape. In addition to this piece of the ESG puzzle, we are believers that the other key elements of the ESG framework — the "S" and "G" aspects — are not passing fads, but rather, comprise a powerful strategy to deliver returns to shareholders and succeed at our core mission of making transportation cleaner and more sustainable. Ever since the abbreviation ESG was coined in 2005, in the seminal United Nations report "Who Cares Wins," research has reinforced the conclusion that to maximize shareholder value over the long term, companies must take a more inclusive perspective on the risks and opportunities faced by their business. Everything from supply chain and logistics to brand awareness and goodwill hinge on a company's exposure to risks presented by governance issues, societal developments and environmental degradation. 
Our bold environmental mission has allowed us to attract and retain our incredibly talented team and engage our world-class prospective customers as partners. Our teammates and customers are passionately committed to realizing the potential environmental benefits of our technology with real cars on real roads.
We are pleased to present our first annual ESG report as a public company, and we look forward to reporting on our progress in the years to come.
Jagdeep Singh, CEO
Environmental, Social and Governance Strategy
We are driven by our mission to promote the long-term health of our planet and the interests of all our stakeholders, and this core focus informs every step we take as an enterprise.
As a leader in the development of next-generation solid-state lithium-metal batteries, our stakeholders hold us to a high standard, and we are constantly working to exceed their expectations. QuantumScape focuses on environmental, social and governance (ESG) issues that are relevant to our industry and business and serve the long-term interests of our employees, customers, partners, investors, communities and other stakeholders. With a mission to transform energy storage, we believe incorporating ESG considerations into our business strategy is essential to our success.
We have aligned our ESG framework with the United Nations Sustainable Development Goals (SDGs). The 17 SDGs are bringing together governments, companies, nonprofits and academia to develop solutions to global sustainable development challenges by 2030. We recognize the important role we can play in helping to meet the SDGs and have aligned our efforts with seven SDGs where we are positioned to have the most significant contribution.
Environmental Stewardship
Environmental sustainability is the reason we do what we do. EVs play an important role in our transition away from fossil fuels, and we were founded with the goal of driving EV adoption by creating a better battery that helps make the transition from combustion engines to EVs easier for drivers.  
We have prioritized alignment with four SDGs where QuantumScape's environmental mission, research and solutions can make the biggest impact. Our continuous R&D efforts are focused on bringing to market a disruptive battery technology that will potentially provide widespread access to clean alternatives to fossil fuels, alternatives that are indispensable to meeting the UN's collective net-zero emissions goal by 2050 or sooner. Through our efforts, we are helping to achieve SDG 7: Affordable and Clean Energy, SDG 9: Industry Innovation and Infrastructure, and SDG 13: Climate Action by the UN's 2030 target. We also aim to be efficient with our use of natural resources, reduce waste, and limit environmental impacts during the product lifecycle, in alignment with SDG 12: Responsible Consumption and Production, and SDG 13.

Product Impact
We are at the beginning of a forecasted once-in-a-century shift in automotive powertrains, from internal combustion engines to EVs. While conventional lithium-ion battery technology has been sufficient to drive limited adoption of EVs, there are fundamental constraints of this technology that we believe must be overcome to fully supplant combustion engines used for transportation. 
Speeding the transition to EVs plays an important role in achieving the goals of the Paris Agreement, but reducing the CO₂ emissions from transportation is only one of the benefits. Combustion vehicles have a significant negative impact on air quality in cities due to emissions of harmful pollutants such as NOx and fine particulate matter (PM2.5). These emissions may lead to increased rates of asthma and other respiratory diseases, as well as a host of other health burdens that are still being understood. 
Our solid-state lithium-metal battery technology is designed to overcome these shortcomings of conventional batteries through our key innovation — a proprietary solid ceramic separator. This separator is designed to not only allow us to eliminate the graphite/silicon host material from the anode, but also to manufacture our cell entirely anode-free.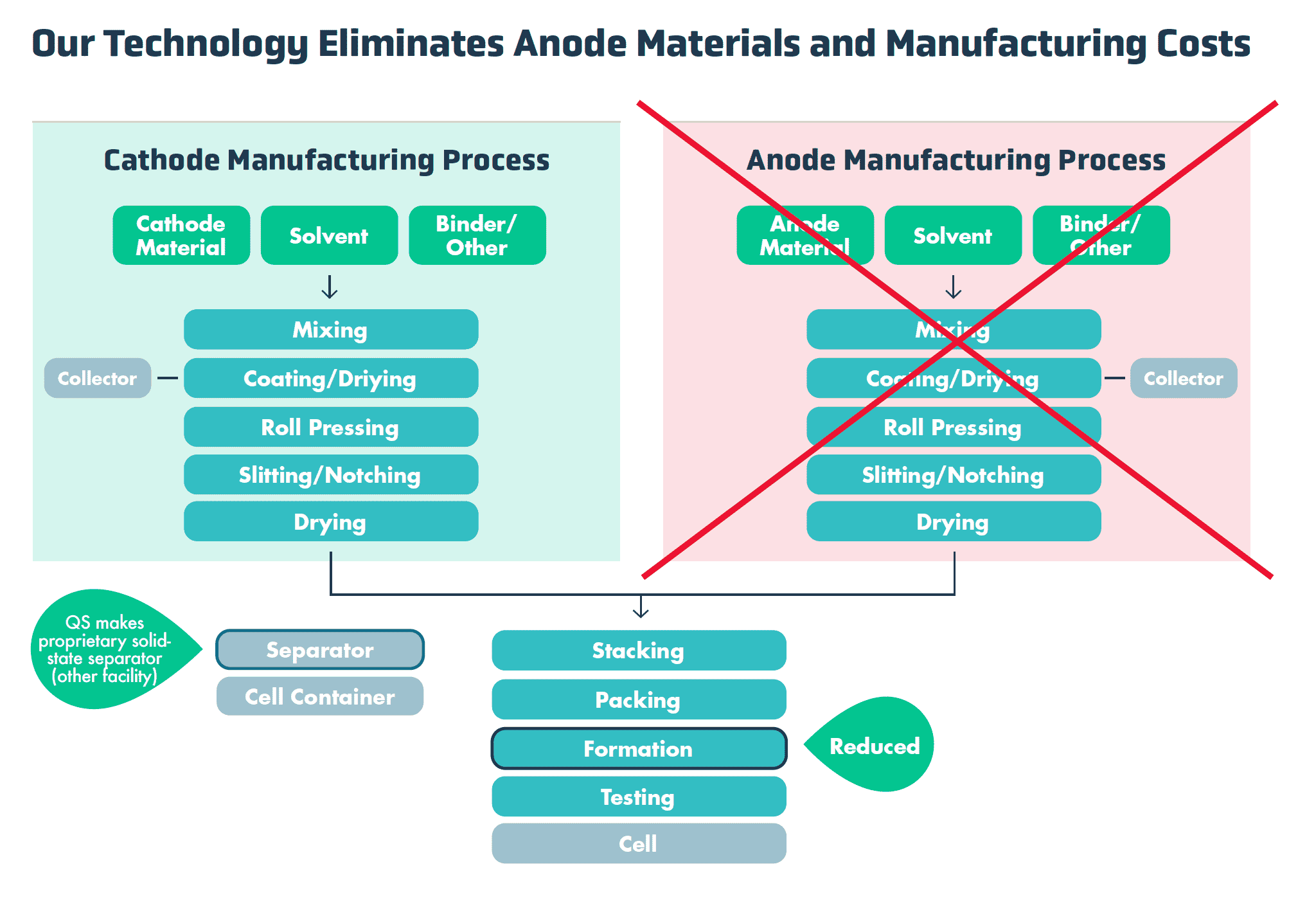 Sustainable Design and Lifecycle Management
While lithium-metal batteries can play a crucial role in the fight against climate change, we are conscious of the potential negative environmental impacts in the battery lifecycle. Although we are still in the process of developing our products before bringing them to market, sustainable product design is a priority and has been contemplated in the design of our battery. We believe we can further strengthen the environmental value of our technology by designing our batteries to do more with less material, have a longer useful life and retain utility in second-life applications.
As a company founded with a mission to enable a sustainable energy future, we support the global community's goals to achieve net-zero emissions and a circular economy. We are passionate about the environmental benefits of our batteries, but recognize that the positive impact created by using our batteries should not be outweighed by substantial negative environmental impacts from the full battery lifecycle. As we engage further in our manufacturing process and supply chain, we are carefully considering the implementation of various environmental metrics across the product life cycle and other aspects of sustainability that are consistent with these global goals.
Our employees, customers and suppliers are essential to our mission and business goals, and we take responsibility for their interests. Our social strategy prioritizes growing a diverse, talented and engaged workforce, ensuring the health, safety and welfare of employees, customers and supply chain workers, and protecting our business, employees, customers and vendors from data security and cybersecurity threats.
We have aligned with three SDGs where QuantumScape's social initiatives and practices have the greatest contribution. Our mission is strengthened by the impact we have on our stakeholders. Creating a safer EV battery is core to our product design and the value we offer our customers. To further support our corporate goals, we intend to continue to be a safe, responsible and diverse organization. We make continual progress toward reaching SDG 3: Good Health and Well-Being, SDG 8: Decent Work and Economic Growth, and SDG 10: Reduced Inequalities.

Diversity, Equity and Inclusion  
Our company is built on innovation, which requires people with different skills, experiences and perspectives working collaboratively to develop new ways of approaching persistent problems. Our culture of innovation is sustained and bolstered only when everyone feels welcomed, accepted and valued.
A priority in 2021 was proactively eliminating unconscious bias in our hiring and promotion processes and setting the foundation for year-over-year improvements in diverse representation. Some demographic groups have historically been underrepresented in the technology and automotive industries and we recognize we also have work to do in this area. As we grow, we intend to actively pursue initiatives focused on broadening the range of opportunities for those demographic groups.
Occupational Health & Safety  
The health and safety of our employees is mission critical. We maintain a supportive organization and work culture that encourages personal health and life-work balance for our employees. We address workplace health and safety concerns through engineering controls, policies, procedures, training, monitoring and audits. The employee health and safety approach at QuantumScape is based on five imperatives: 
Design out hazards during site construction, equipment design and installation 
Manage hazards by implementing engineering controls 
Control hazards by providing personal protective equipment, procedures and signage 
Empower employees by observing, reporting and correcting unsafe behaviors and conditions 
Promote, recognize and reward employees who are involved in site safety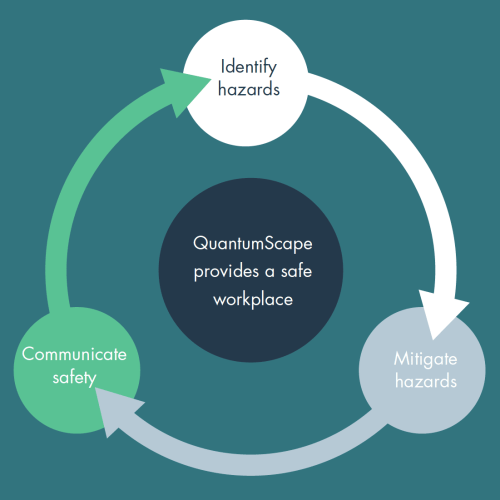 Product Safety
Improving the safety of EV batteries is key to achieving our goal of powering the transition away from fossil fuels. The primary safety risk in conventional lithium-ion batteries comes from the potential energy stored in the combustible electrolyte and separator, which is released in the event of a fire. As conventional cells are further optimized for energy density, these safety challenges become even more acute. QuantumScape's battery technology is designed to reduce these safety risks by replacing the polymer separator found in conventional lithium-ion cells with a nonflammable, noncombustible solid ceramic separator. We believe this will substantially reduce the risk of fire and thermal runaway events.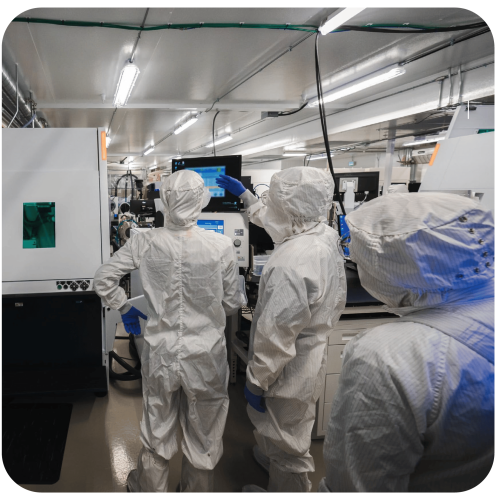 Data Protection and Security 
QuantumScape's information security program is geared toward helping us defend our information assets, including our intellectual property and the personally identifiable information of our employees. Our information security program strategy focuses on protecting information assets from the cultural, managerial and technical root causes of data breaches. 
To execute on our mission and business strategy, we believe it is imperative to institute a robust governance structure that supports our internal controls, policies and procedures. This approach requires strong leadership from our board of directors and management team. By setting the tone at the top, we build a workplace culture grounded in ethics, integrity and accountability
The board of directors' oversight of our corporate strategy includes aligning our ESG strategy to support corporate goals and consideration for how environmental and social issues impact the long-term interests of our stockholders. The nominating and corporate governance committee provides direct oversight of ESG and other governance-related matters. ESG responsibility at QuantumScape runs from the most senior levels to every individual team member and is embedded in how we conduct ourselves, develop our products and run our day-to-day operations to serve the best interest of the business and our stakeholders.
Our board of directors believes that the board should be a diverse body with members that have a mix of viewpoints, experiences and attributes such as professional background, skills, race, ethnicity, gender, education, age, and geography, as well as other individual qualities and attributes that contribute to the total mix of viewpoints and experience represented on our board. Members of our board of directors possess expertise in relevant areas that include battery and energy technology, the automotive industry, manufacturing operations and scale up, finance, risk management and human resources.
Board Knowledge, Skills and Experience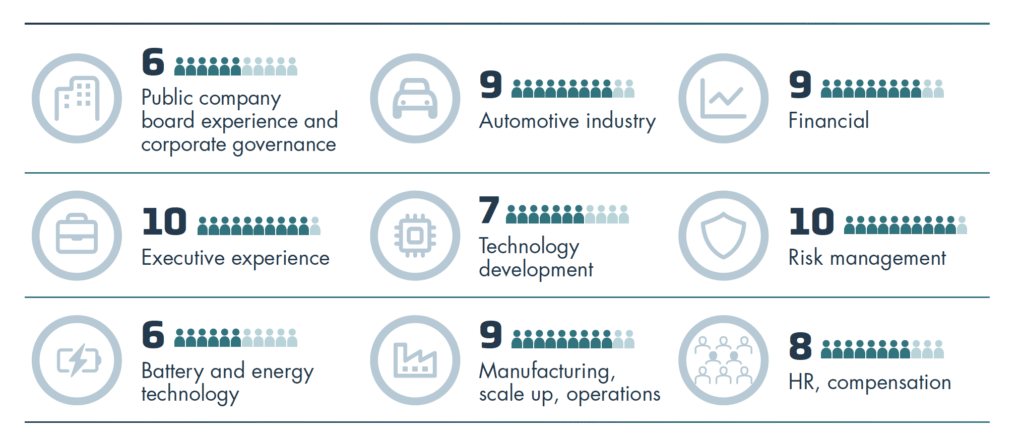 Supply Chain Management 
Like other EV battery manufacturers, QuantumScape uses mined precursor materials, which require careful consideration as we, and the wider battery industry, scale up to meet increasing demand. Our product development focuses on using earth-abundant materials that will allow us to move into high-volume production. Our battery is being designed to use many of the materials and processes that are standard across today's battery manufacturers, so we expect to benefit as the lithium-ion industry solves its supply challenges. While our separator material is unique in the industry, it is made from readily available inputs used in many other industries.